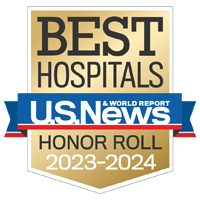 UCSF Ranks Among the Nation's Best
#2 in Neuro and Top 10 in the Nation in 7 Specialties Ranked by U.S. News & World Report
UCSF Medical Center has been named to the Honor Roll of the nation's top hospitals for adult care in U.S. News & World Report's 2023-24 Best Hospitals rankings, representing the highest quality of care and safety standards in the country.
The distinction was earned by only 22 medical centers nationwide and five in California. This year's analysis removed ordinal rankings for the Honor Roll hospitals, reflecting the overall high levels of care among these leader institutions.
UCSF Medical Center was listed as the best hospital in California and in the West in neurology/neurosurgery and rheumatology, and among the country's top 10 hospitals in seven specialties: neurology/neurosurgery, geriatric care, psychiatry, cancer, autoimmune disorders (rheumatology), pulmonology/lung surgery, and ophthalmology. This is the 27th year that UCSF has reached the highest echelons for neurology/neurosurgery, which are specialties within the UCSF Weill Institute for Neurosciences.
Regionally, UCSF Medical Center was the best hospital in Northern California for cancer care, a status it also achieved in geriatrics, ophthalmology, psychiatry, and urology, along with its top California spots in neurology and autoimmune disorders.
It is the top-ranked hospital in the San Francisco Metro Area and the only hospital in Northern California to be ranked among the top 50 hospitals in all 14 specialty areas in which it was assessed. Additional areas include cardiology, diabetes/endocrine disorders, gastroenterology, obstetrics/gynecology, orthopedics, and otolaryngology.
"We're honored to be recognized among the best hospitals across the full range of specialties," said Suresh Gunasekaran, president and chief executive officer of UCSF Health. "The rankings are a testament to the commitment of the entire UCSF Health team to continuously improve the quality, safety, and equity of the care we provide."
In addition to these rankings, UCSF Medical Center has been named among the nation's leaders in quality and safety across health care's most highly regarded rating systems. It received the highest rating for safety, an "A" grade, from The Leapfrog Group for its hospitals at both Parnassus Heights and Mission Bay, and a 5-star rating from the Centers for Medicare & Medicaid Services for its quality of care. It is listed among the top performing academic medical centers in quality and safety by Vizient, Inc., and has achieved the gold standard "Magnet recognition" for nursing excellence for more than a decade.
"UCSF's success is built on the longstanding collaborations across our care delivery, research, and education mission that have driven innovation and transformed lives," said Sam Hawgood, MBBS, chancellor of UC San Francisco. "These rankings showcase that history and the exceptional care our clinical teams deliver every day."
More than 4,500 hospitals were evaluated in the new rankings, which were released Aug. 1, 2023. Of these, 173 medical centers were ranked among the top 50 nationwide in at least one specialty area, representing excellence in treating particularly challenging conditions. UCSF Medical Center and UCLA Health were the only hospitals in California to rank among the top 50 in all 14 areas.
Additionally, UCSF Medical Center ranked as "high-performing" – the highest category – in 20 adult procedures and conditions, including colon cancer surgery, heart bypass surgery, prostate cancer surgery, and hip replacement.
UCSF's Rankings and Recognition from U.S. News, 2023-24
Best Hospitals Rankings
Nationwide, Best Hospitals Honor Roll 2023-24
#1 San Francisco Metro Area
Top 10 Nationwide (national rank shown)
#2 Neurology and Neurosurgery – Best in the West
#4 Geriatric Care – Best in Northern California
#6 Psychiatry – Best in Northern California
#7 Cancer – Best in Northern California
#7 Rheumatology – Best in the West
#8 Pulmonology and Lung Surgery
#9 Ophthalmology – Best in Northern California
Among the Nation's Best (national rank shown)
#12 Urology – Best in Northern California
#12 (tie) Orthopedics
#13 (tie) Diabetes and Endocrine Disorders
#20 Ear, Nose and Throat
#29 (tie) Gastroenterology and GI Surgery
#32 Cardiology, Heart and Vascular Surgery
#44 (tie) Obstetrics and Gynecology
High-Performing Procedures and Conditions
Abdominal aortic aneurism repair
Acute kidney failure
COPD
Colon cancer surgery
Diabetes
Heart attack
Heart bypass surgery
Heart failure
Hip fracture
Hip replacement
Knee replacement
Leukemia, lymphoma and myeloma
Lung cancer surgery
Maternity care (uncomplicated pregnancy)
Ovarian cancer surgery
Pneumonia
Prostate cancer surgery
Stroke
TAVR
Uterine cancer surgery